Healing with the Masters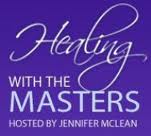 Healing with the Masters hosted by Jennifer McClean is a free on-line workshop that is offered to those who are interested in more than one modality to facilitate them through change, self-empowerment, self-healing, distressing, and moving into a different way of living. These new ideas (and some traditional) techniques are available for those who require more than one 'way' to facilitate change in their lives.
There are 27 speakers who are trained to guide the listener to a more positive and up-lifted place of being. Some processes may even shift the energy to a different level of consciousness. Some of the speakers include: Drunvalo Melchizedek, Jo Dunning, Panache Desai, Rikka Zimmerman, Guy Finley, William Linville, Carol Tuttle.  They will be demonstrating 'high frequency' energy techniques, processes, prayers, and meditations. What is impressive is that the speakers have been featured on many well known shows on television such as; The View, A&E, CNN, ABC, to name a few.
The Healing with the Masters workshop also offers special bonuses such as winning a 'one-on-one' with your favourite speaker and possibly winning a computer. For those who require copies of the workshop a package including 24 shows in MP3 format, downloadable shows and transcripts, as well as copies on CDs and DVDs is available.
'Healing with the Masters' is credited to be the most massive transformational online workshop on the planet with over 500, 000 responses in 230 countries. It is hosted by Jennifer McClean who has been involved in this type of work for a long time.
It is clear, when listening to the calls, that the goal is to bring intention to changing the vibration on which we function at, and in-hand, also contribute to shifting energy throughout the world and the earth.  They speak about verbal and energetic vibrations that affect how we think about ourselves and how it affects our performance and our lives, introducing many techniques by all these practitioners who have found different ways to tap into our 'true' selves and how we interact with the world.
Healing with the Masters Calls
One of the free audio replays that is a good introduction to these Healing with the Masters webcasts is the interview with Lynn McTaggart who is a journalist, author, and journalist. Lynn spoke on the 'Science Week' with Healing With the Masters and speaks with clarity and confidence.  Her practical, modern style to speaking is easy for us to relate to as she is inviting us to look at 'ourselves' differently. She tells some stories that draw us in to perceive what is possible with people in society that we may have not been aware of. Her 'down-to-earth' style is refreshing and her comment that she believes that change on this planet is not so much of 'intention' it is 'connection'.
If you would like a more scientific perspective it maybe informative to listen to Mark Waldman who is an author, a neuroscientist, to mention a few, as well as, known as an expert with spirituality and the brain.  It is a new scope on the connection between the two of the latter.
There are many techniques and may points of view that are presented throughout these Healing with the Masters calls and (as with all information) that we read, we are the ones choosing what feels correct for us and what may not work.  This opportunity to sample so many different modalities from one site is a great way to pick up whatever tools that work the best and may open doors to greater possibilities.
Looking at the line-up for the future calls, they have well known and inspiring practitioners and speakers that are going to be interviewed.  When investigating the other speakers it may be wise to listen within the week as it looks like they take off the replays eventually.  Not having to go out to the event and clicking on replay is definitely easier and better way to work around busy schedules. In the end Healing with the Masters is a great service to anyone interested in this work, especially because it is freely available and only requires spending money if you want to purchase the recordings or additional material.
Healing With The Masters Season 11
Be part of Healing with the Masters Season 11 where 26 healers and speakers will guide you from March 7 to May 30. Below is the schedule and list of the eminent personalities who will be present in this season of potentially life changing interaction that millions are a part of. Each episode will be aired at 4PM Pacific, 5PM Mountain, 6PM Central and 7PM Eastern.
Date – March 7
Jennifer McLean – Globally renowned entrepreneur and writer, McLean is intelligent and sensitive, simplifying the transformational thoughts conveyed at most wellness communities do her audiences can understand them easily.
Date – March 12
Rikka Zimmerman – She is an internationally acclaimed consciousness leader as well as a writer, speaker and singer who helps people in becoming their own expressions.
Date – March 14
Howard Martin – Since 1991, Martin has founded HeathMath and been part of their consultation and training team after which he authored the HearthMath Solution with Doc Childre which is an audio learning program.
Date – March 19
Mashhur Anam – Inspired by his belief that nothing is impossible, Anam has spent his years in helping humanitarian causes. After exploring the holographic nature of the world, he explains to others the range of equations and algorithms than create reality.
Date – March 21
Jacqueline Joy – This spiritual leader and advisor has delivered her sacred technology after being inspired by divine interventions and hopes to bring joy to others.
Date – March 26
Panache Desai – He is a spiritual master and an inspirational visionary whose unique gift of vibration transformation has touched the lives of people from all backgrounds and age groups.
Date – March 28
Sonia Choquette – She is yet another internationally acclaimed vibration alchemist, spiritual teacher and intuitive consultant who can instantaneously make people feel happy and peaceful.
Date – April 2
John Assaraf – Assaraf has a passion for discovering people's crisis and offering them resolutions. He has been noted for helping to break mental blocks and driving people forward.
Date – April 4
Lee Holden – Meditation, Qi Gong and Tai Chi instructor Holden, has gained fame across the world and can also provide acupuncture and herbal therapies.
Date – April 9
Jonathan and Andi Goldman – This duo has dedicated themselves to providing services and helping others in feeling empowered and healed.
Date – April 10
Clayton Nolte – Inspired creator of life changing technologies based on water structuring, Nolte has fused the properties of water with healing the spirit within the human body.
Date – April 11
Steve Hinkey – Pioneer in the field of esoteric healing, Hinkey is a famous educator who many contemporary healers have studied with. He tutors healer and helps in spreading Conscious Awareness.
Date – April 16
Ram Dass – After visiting India in 1967, this psychologist from Harvard learnt psychedelic research after which he dedicated his life to bettering the lives of others.
Date – April 18
James Van Praagh – Ranked as one of New York Times bestselling authors, James has taken the mediumship movement to a whole new level and serves as a spiritual medium to people today.
Date – April 23
Colette Baron Reid – She is an intuitive counselor and educator who aids people in discovering their intuitions, the potential of those intuitions and the power of getting a grip over them.
Date – April 25
Bob Doyle – Entrepreneur and author, Doyle teaches principles of how life should be lived to others and utilizes the laws of attraction to achieve so.
Date – April 30
Mary A Hall – Internationally acclaimed healer, speaker and author, Hall has her own system for guiding others to connect with their innermost feelings and helps them to feel the strength of the divine essence.
Date – May 2
Margaret Lynch – A world class EFT expert and coach. She helps to seek out your fears and see through them without having to spend a large sum of money in the process. Lynch delivers high impact speeches that transforms the lives of others and clears out their internal blocks.
Date – May 7
Wayne Dyer – He is an acclaimed speaker and author of self development and has produced 30 books and many audio tapes that have been aired on both radio and television.
Date – May 9
Patricia Cota Robles – Founder of New Age Study of Humanity's Purpose, she served as a relationship and marriage counselor for more than 20 years before giving motivational speeches to others.
Date – May 14
A special guest is to make an appearance that has been withheld from followers so you can be pleasantly surprised upon tuning in.
Date – May 16
Glenn Harrold – Qualified as a clinical hypnotherapist, this author and musician has helped more than thousands of people fight stress problems.
Date – May 21
Jennifer McLean – Globally renowned entrepreneur and writer, McLean is intelligent and sensitive, simplifying the transformational thoughts conveyed at most wellness communities so her audiences can understand them easily.
Date – May 23
Neale Donald Walsch – With a background in religion and spirituality, Walsch found his goal when he started interacting with God and his works have been translated into 34 languages for the world to read his views.
Date – May 28
Kenji Kumara – After creating Quantum Lightweaving which is his 38 year old synthesis, he offers teaching videos to healers across the world currently.
Date – May 30
Glynis McCants – After learning numerology for more than 21 years, she makes use of the 2500 year old Pythagoras System to help improve the quality of living of her followers.